Alameda

Table Tennis

Center
This year Alameda Table Tennis Club celebrates it 5th year of operation. During this time we have produced national champions ranging from 8 years old to 70 years old!
Alameda Table Tennis Club:
Over 300 members , one hundred local players participate in classes, round robins, and open play each week

Over 300 member Yahoo! Mailing group

Over 200 members in Facebook and Meetup Groups

Website with an average of 1000 hits from 100 unique visitors each day
Alameda Table Tennis Club sponsorship:
Sponsor acknowledgement during the rumble and round robins

Distribution of coupons or flyers to all rumble participants

Prominent sponsor display on website

Promotional email to all members of the Yahoo! email group

Menu or flyer display at Alameda TTC

Fundraiser card ad
ATTC Fundraiser Card Program
The 2013 Fundraiser Card
2014 Fundraiser Card Participants
Why Our program works
Alameda Businesses who have supported ATTC
PS Eatery 1363 Park St., Alameda
Fresh, high-quality and healthful food without compromising great taste.
2308 South Shore Center Alameda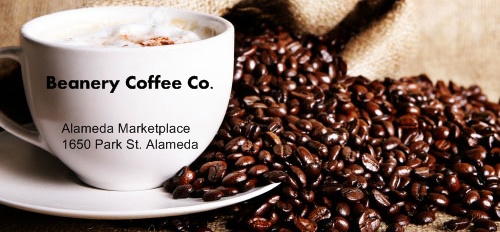 The Beanery is the only Coffee shop on Park St. with parking!
Click here for Map
Burgers the way they were meant to be made, YOUR WAY!
Delicious Vietnamese cuisine on the water.
2337 Blanding Ave. Alameda
Click here for map
Sushi House - Japanese Restaurant and Sushi Bar

The best Sushi around with a great view of the Bay.
ATTC Site hosting provided by: